Year 5 & 6
Welcome to Year 5 and 6 at Hart Primary!
We love our school and work hard with our learning. We hope you enjoy looking at all of the exciting things we have done, the visits we have been on and the learning that has taken place!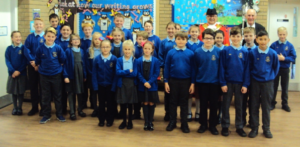 Our teacher's name is Mrs James. Other staff who work in our classroom are: Mrs Temperley – our classroom assistant, and Miss Wood our HLTA.
In class 4 we fully believe in the school phrase – Always our Best. We try to achieve this in everything we do, whether it is English and Maths, History, PE, concentrating in lessons and even when walking through the school. We think Hart is a fun place to be, where we work hard together and always succeed.